ABOUT Worldwide Tank Services
Worldwide Tank Services – Caring for Your Tanks Since 1983
Tank Lifting/Tank Jacking Systems & API Training
Worldwide Tank Services (WTS) is an internationally recognised engineering consultancy company. WTS was formed in 1983, initially named Worldwide Testing Services, later changing to Worldwide Tank Services, in order to better reflect the company's specialised services which include integrity testing, and project management and site supervision for construction, modification, remediation and maintenance of bulk storage tanks in the Oil  and Gas Industry. WTS operates domestically throughout Australasia, as well as internationally in South East Asia, the Middle and Far East, and has completed a number of projects in the USA.
The company pioneered the raising of tanks for foundation remediation and underfloor corrosion management and repair using Air Bag Lifting technology. WTS has been a regular contributor of technical papers on its process to Institute of Engineers Australia gatherings as well as Tank Conferences run by NACE in the USA.
In recent times, WTS has developed a training branch to share with others the technical knowledge and experience gained by us over our 35+ years of operation.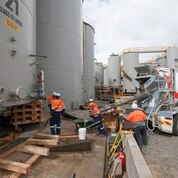 API Certification Training Courses
We now also provide a comprehensive training service for pre-examination courses to persons wishing to qualify for American Petroleum Institute (API) – Individual Certification Program in the following disciplines:
Industry Accreditations
Worldwide Tank Services has achieved the following industry accreditations:
Quality System accredited to ISNetworld
API Accredited Examination Coordinators for Australia
Accredited API 653 Tanks Inspectors
ASSDA Accredited Stainless Steel Technicians