Worldwide Tank Services
Specialists in Tank Lifting, Training & Consulting
Are Your Storage Tanks Giving You Best Value for Money?
Worldwide Tank Services Has the Answers
Storage Tanks are an essential but costly element of any bulk liquid storage or processing facility. As a consequence, operators seldom build redundancy into their operations to account for a tank being taken "out of service" to accommodate repairs or upgrades.
Worldwide Tank Services can help you to analyse the operation of your storage tanks, provide project management and site supervision for any repairs required, as well as a plan for future management and inspection to best manage your asset.
At Worldwide Tank Services we care about your tanks, and we want to help owners and operators to best care for them, to give you efficient serviceability and value for money.
We provide consulting services, including tank lifting/tank jacking, tank testing and inspection, for a variety of industries, including:
Tank Terminals
Oil & Gas Processing Facilities
Mining & Minerals Processing Plants
Petrochemical Plants
Water Storage & Utilities
We also deliver a range of API accredited courses, as well as short courses in related topics.
Let your tank problems be our problems to solve!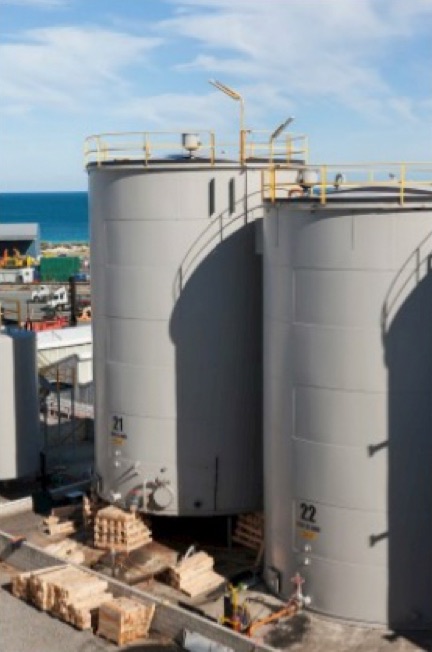 Training Courses
Do you wish to attain individual API accreditation?
WTS provides accredited training courses for candidates wishing to attain individual API accreditation.
Our range of 5-day API training courses are held throughout the year in all major centres in Australia, as well as Abu Dhabi, Dubai, Indonesia and Thailand.
On course completion, our students are well-prepared to pass the associated API examinations and their success rate is exceptional. Our courses are scheduled to tie in with examination dates held at all major centres.
Consulting Services
Do you have a problem with your bulk liquid storage tanks?
Worldwide Tank Services  specialise in the inspection, assessment, maintenance and repair of storage tanks.
Our specialist air bag lifting methodology enables us to safely lift your tanks for the purpose of evaluating and repairing bottoms as well as subgrades, secondary containment and leak detection systems, and foundations.
All work is completed to API 653 standards, and certification provided on completion of works.
Get maximum return on your investment
Storage Tanks can give the impression of a large, static and somewhat redundant piece of capital outlay that does little else than serve as a necessary bubble in a pipeline or process system. However, storage tanks are a much more complex element of your process or storage/process system than you might realise.
Storage tanks are an essential and costly element to any process system, or storage terminal, and so deserve to be properly managed and maintained to ensure that operators derive maximum return for that significant investment. Too often, we are contacted by operators and owners who have a tank that has sprung a leak and needs urgent attention, or is showing signs of buckling and structural overload, and are unsure how to remedy the problem safely, expeditiously, and in a cost effective manner. However with proper management of these structures, we at WTS can ensure that your investment provides reliable service and value for money.
Worldwide Tank Services specialises in integrity based inspection of storage tanks, and a comprehensive follow up service of repairs/refurbishment and analysis/advice regarding prevention or management of those symptoms for future operation.
Let us show you how to manage your tanks for best serviceability and life of the asset.


Viva Energy Brisbane
One of Viva's product tanks had begun to list to the extent that it was beyond the verticality limits imposed by API 653. WTS was consulted to advise a suitable remediation program for the tank.
The site works were completed successfully with no safety incidents, on schedule and within budget, to the complete satisfaction of our client.
We have used WTS to carry out the following type of works:
Tank lifting using air bag methodology
Basecourse rehabilitation
Tank Calibration
Tank integrity Inspections and Reports
Shell PNG has been happy with the professional service WTS has always provided.
I would like to record our technical satisfaction of the scale and economical maintenance activity performed for us by WTS under the organisation of Ivor Wildin. Tank 1112-TC, 53 m dia x 19 m high, lifted to 2m above grade for installation of a rock ring beam and lower floor refurbishment.
I would have confidence in Mr Ivor Wildin's ability to coordinate and organise similar lifts again.
Singapore Refining Company
BP Australia has been associated with WTS and in particular its Director, Ivor Wildin, since early in 1980.  I have found Ivor to be a competent operator and provider of these services to BP.
The air bag method you employed was not only safe, but also an extremely efficient, gentle and cost effective method of lifting a tank. Your focus on safety was also very much appreciated with no incidents or LTI's.
I would have no hesitation in using WTS and the airbag method for similar future work.
Why Choose Worldwide Tank Services
Safety First Approach
We are able to lift tanks in an intrinsically safe manner that does not require welding, therefore providing a safe and expeditious means of conducting under-tank assessments and repairs in flammable or noxious gas environments.
One Stop Shop
Worldwide Tank Services is your "one stop shop" for inspection, maintenance and modification of your storage tanks. Not only can we conduct inspections and fitness for purpose assessments, we also carry out any required modifications and repairs
API 653 Certification
On completion of the work, we can then provide engineers' sign off for serviceability in accordance with API 653 requirements.